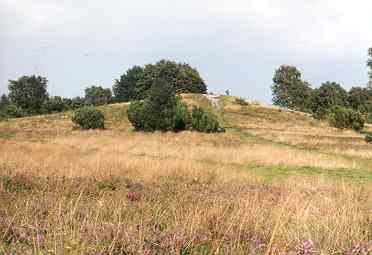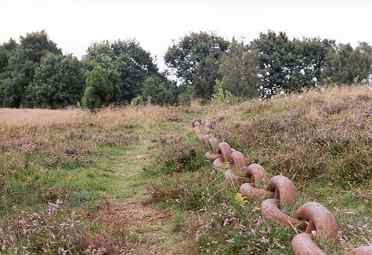 The Spöllberg at Gölenkamp
Here at the Spöllberg (literally Play Mountain) the farmer Pamann found a golden cup in 1840. The cup is said to be the oldest receptacle found in western Europe. It is assumed that the Spöllberg used to be a Germanic place of worship in the very past.
Within the scope of the kunstwegen project (kunstwegen = dutch for Art Routes or Art Pathes) a 270 metres long and almost 100 years old anchor chain has been laid around the Spöllberg in 1999. The Italian Artist Luciano Fabro from Milano considers the burial mound Spöllberg as a big ship moving along. In many cultures the burial is the beginning of a great transmigration of souls. The artist has found the chain rather incidentally at an iron storage in the harbor of Ravenna. Now the chain remains far away from the great seas in the shrouded silence of the heathland. It lies in respectful nearness to the historical burial mound. Fabro called his work "Tumulus".
Information about the kunstwegen project can be found at www.kunstwegen.nordhorn.de.
| | | |
| --- | --- | --- |
| | | © Jul 25 2000 www.Uelsen-und-Umgebung.de |