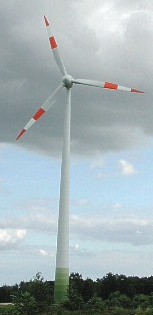 The new wind park at Wilsum, such as the wind parks at Laar and Emlichheim, certainly represents the most noticable sign of the ongoing changes in the lower county of Bentheim. In the past decades the changes mostly took place in the plane: new development areas, roads and recreation areas were built.
The new wind turbines extent upwards - almost in a monumental manner. The influence onto the landscape is quite obvious. Now, since the erection of the first smoke stacks and the construction of the overhead transmission lines, the landscape is getting new vertical elements.
Whether the turbines are distracting structures or whether they are esthetic buildings of modern engineering skills, whether the fit into the landscape painting or not: we like to show some photos of the new wind park at Wilsum.
Still an unusual view. A look from the windmill hill down to the village of Uelsen. In the background the wind turbines can be noticed.