Christian Reformed Church (Gereformeerde Kerk)
Uelsen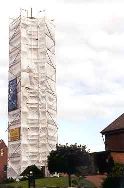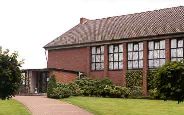 The Christian Reformed Church in Lower Saxony is a denominational free church. Parishes of this Church can be found in East Frisia (the very north-west of Germany), in the county of Bentheim as well as one parish in the city of Wuppertal. The origin of this Church dates back to the 19th century. After the French period (1806-1814) a new church- and state law had been released that allowed the state to gain more influence onto the Churches. Opposition began to arise against the secular involvement. The new understanding of life and theology at that time contributed to irritability and contrasts among the Reformed parishes. Irksome Christians were pushed aside the parishes. On Jan 1, 1838 the "Secluded" founded the first German Christian Reformed Church. This happened in the Huisken House at Itterbeck. Because nobody can found a parish out of its own, reverend A. van Raalte from the neighbouring Netherlands had been invited. In the Netherlands, the separation from the Reformed Church had started earlier in 1834. Van Raalte performed the institution of the parish, he then baptized some children and appointed the first people to their service. Today the Christian Reformed are still indebted to the Dutch because the pastoral education takes place at either Kampen or Amsterdam.
The first stone church was built in 1882 in the Schulstraße. Since the institution of the parish there have been meeting places before. These were used for devotional meetings (stichtelijke samenkomsten). The todays church was erected in 1960 next to the old one. A parish hall was attached to it in 1977.
The Christian Reformed Church Uelsen counts around 700 members. Confirmation classes start at the age of 11 and end at the age of 18 by laying down the creed. Rounds of talks, parish work and choir work rate highly. Twice a year there is a "pulpit exchange" with the Reformed Church.
Listen to the bells (MP3 128 kbit/s Stereo, 198 kB)
Christian Reformed Church Uelsen, Eschweg, 49843 Uelsen
Services:

Sunday 10.00 am and 02.00 pm,
between Whitsun and end of August 10.00 am and 07.15 pm

Children's service:
Sunday 10.00 am
Rectory:
Eschweg 1, 49843 Uelsen, Tel. 05942 / 419

Wilsum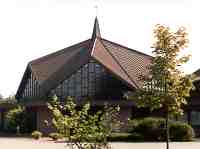 The progressive turn to the Christian Reformed confession in the 19th century resulted in the institution of a another parish at Wilsum. This happened in 1948. An old barn was used as the first church, the second church was built in 1869. It was replaced in 1910 by a new building and in 1986 the todays parish center was erected at the Eichenallee. The Church understands itself as a faithful parish, according to the Dutch Creed, the Heidelberg Catechism and the five articles of Doordrecht. The parish focusses on the pronouncement of the Word, the christening and the holy communion.

Christian Reformed Church Wilsum, Dorfstraße, 49849 Wilsum
Services:

Sunday 10.00 am und 02.00 pm,
during vacation 10.00 am and 07.30 pm

Children's service:
Sunday 10.00 am
Rectory:
Dorfstraße 9, 49849 Wilsum, Tel. 05945 / 222